Easy Educator EZ 900 is a high-tech dog training collar made with safety in mind. It has imposing and unique features that make it more humane and efficient in dog training.
Easy Educator EZ 900 is ergonomically made for smooth operations.
You can set stimulations levels simply using a dial while keeping your eye on the pet.
Easy Educator 1/2 Mile Dog Training System
During the night, tacking light lets you flash the collar receiver or light. It continues to find your pet position.
Since remotes are small devices that can be misplaced, the beeper function helps you find them.
This Easy Educator EZ 900 collar comes with a dual charger. This is capable of charging both remote and collar at the same time.
This is the best shock collar for dog owners and trainers looking for e-collar tech that surpasses other available in the market in terms of features.
This model has a wide range of stimulation levels and different training modes that make it possible to train small sensitive pets and stubborn dogs.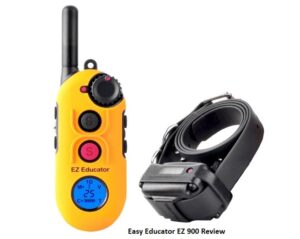 7 Selectable Vibration Types
H High Constant Vibration.

M Medium Constant Vibration.

L Low Constant Vibration.

TS-H High Tapping Sensation – 1 second on and 1 second off.

TS-M Medium Tapping Sensation – 1 second on and 1 second off.

TS-L Low Tapping Sensation – 1 second on and 1 second off.

TA 2 seconds of constant medium vibration followed by continuous stimulation, commonly known as classical or Pavlovian conditioning.
In case you might need to own more pets in the future, this remote trainer Easy Educator EZ 900 expandable for up to 4 dogs. Therefore, you will be needed to purchase only the Easy Educator EZ 900.
Despite being extremely versatile and, best quality features surprisingly. This product is straightforward to set up compared with other dog training collars.
Instant Stimulation
Instant Simulation Mode is the most significant technological advancement in e-collars in decades.
It eliminates the surprise of the stimulation 'shock' when applying levels above 30 to a dog in training.
Easy Educator EZ-900 Remote Collar
Most of the educator's dog training collars, including this Easy Educator EZ 900 model, have the lock and set function.
This function allows the dog trainer to set a boost level and working level.
You can customize your EZ Educator EZ 900 using its computer interface that's super unique and user friendly.
Customer satisfaction guaranteed makes this collar the best option among the competitors.
Educator EZ-900 Easy 1/2 Mile E-Collar Remote Dog Training Collar With Vibration, Tapping Sensation and Pavlovian Stimulation
7 new from $199.99
Free shipping
as of October 25, 2021 3:36 am
Bundle of 2 Items - E-Collar - EZ-900 - 1/2 Mile Remote Waterproof Trainer Easy Educator - Static, Vibration and Sound Stimulation Collar With PetsTEK Dog Training Clicker Training Kit
as of October 25, 2021 3:36 am
Educator Easy EZ-900 E-Collar Remote Dog Training System 1/2 Mile with Vibration, Tapping, Pavlovian Stimulation - Waterproof and Shock Resistant - Includes eOutletDeals Travel Bowl (1 Dog)
as of October 25, 2021 3:36 am
Bundle of 2 Items - E-Collar - EZ-902-1/2 Mile Remote Wireless Rechargeable Waterproof Two Dog Trainer - Static, Vibration and Sound Stimulation Collar with PetsTEK Dog Training Clicker
as of October 25, 2021 3:36 am
Educator PE-900 Pro 1/2 Mile E-Collar Remote Dog Training Collar With Vibration, Tapping Sensation and Pavlovian Stimulation
6 new from $249.99
1 used from $239.99
Free shipping
as of October 25, 2021 3:36 am
Educator Additional Receiver and Collar for Pro Advanced Dog Training Collar System, Red
2 new from $113.64
Free shipping
as of October 25, 2021 3:36 am
Bundle of 2 Items - E-Collar - PE-900-1/2 Mile Remote Rechargeable Waterproof Trainer Pro Educator - Static, Vibration and Sound Stimulation Collar with PetsTEK Dog Training Clicker
as of October 25, 2021 3:36 am
Educator E-Collar - ET-300-1/2 Mile Remote Waterproof Trainer Mini Remote Training Collar - 100 Training Levels Plus Vibration and Sound - Includes PetsTEK Dog Training Clicker
as of October 25, 2021 3:36 am
Educator ET-300 Mini 1/2 Mile E-Collar Remote Dog Training Collar With Vibration, Tapping Sensation and Pavlovian Stimulation
8 new from $179.99
Free shipping
as of October 25, 2021 3:36 am
Bundle of 2 Items - E-Collar - ET-302 - Half a Mile Remote Waterproof Two Dog Trainer Mini Educator - Static, Vibration and Sound Stimulation Collar With PetsTEK Dog Training Clicker Training Kit
as of October 25, 2021 3:36 am
E-Collar - ET-300ZEN - 1/2 Mile Remote Waterproof Trainer Mini Educator - Static, Vibration and Sound Stimulation Collar with PetsTEK Dog Training Clicker
1 used from $169.19
Free shipping
as of October 25, 2021 3:36 am