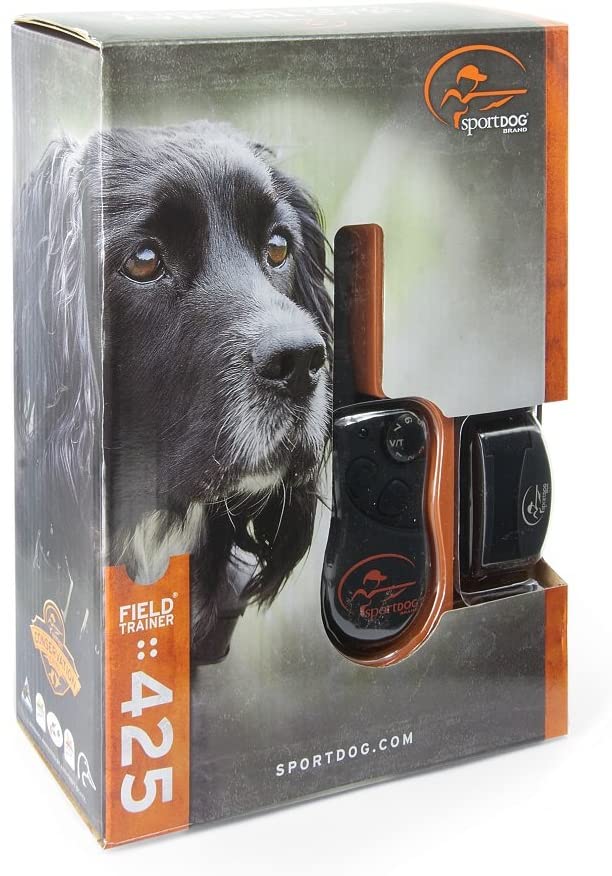 This training kit offers you the top tools to teach your pet new behavior and help you deal with those bad habits your dog might have.
SportDog SD-425 is the most cutting-edge training collar accessible on the market.
With an improved and latest lightweight receiver, the collar weighs in at just 3.3 oz, including the strap.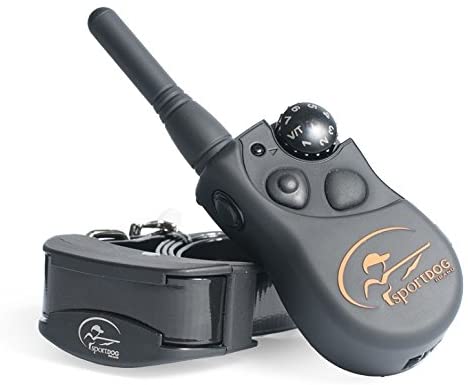 This is the best static collar to train your pet in the yard with the range of up to five hundred yards. It can also be used with close-range hunting pets.
Never hesitate about the collar getting wet because Drytek technology keeps this collar waterproof for up to twenty-five feet submerged underwater.
Features SportDog – SD-425

SD-425 Field Trainer with SDR-AF is a 2 dog system that advises dogs eight pounds or bigger with low to moderate temperament.
This waterproof collar has seven levels of stimulation plus vibration and tone that can be switched quickly. It specs up to the five-hundred-yards range and is expandable to three dogs without losing any functionality with the extra collar. SD-425 system has a quick two-hour rechargeable battery designed to last up to 50-70 hours depending on the regularity of use.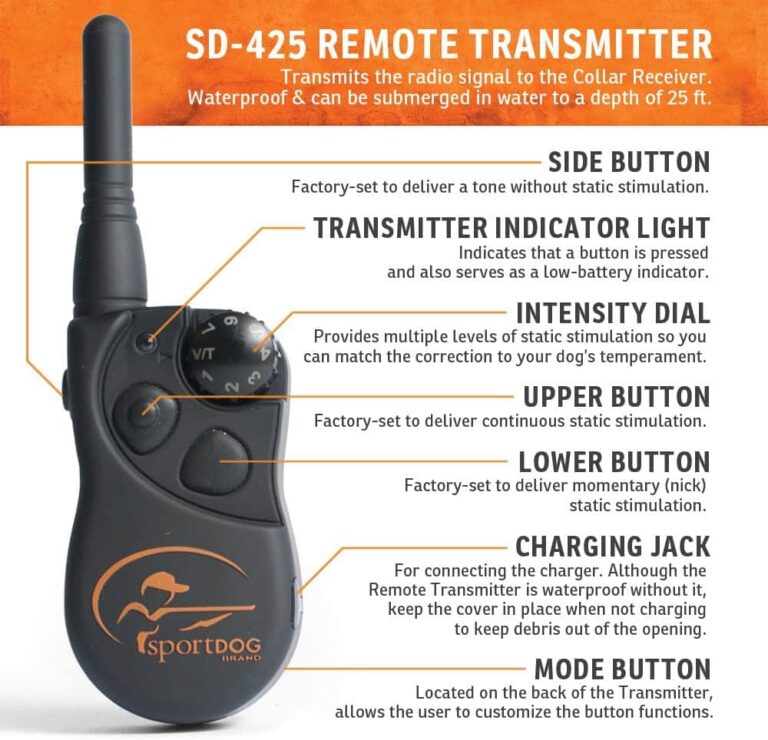 Read Next – SportDOG Dog Training Collars [New X-Series]
Pros
This is a dog training collar/e-collar receiver that appears with a handheld remote transmitter with controls for work.
It permits you to work with static stimulation, vibration, and tone
It is one of the best of its type on the market.
The transmitter has a five-hundred yards range to the collar/receiver
The transmitter dial permits you to pick one of the seven levels of static stimulation in medium or low ranges.
You also have the choice to train with vibration and tone
The transmitter buttons permit you to deliver your choice of momentary or continuous stimulation
Both the remote transmitter and drytek technology collar receiver making them waterproof and submersible to twenty-five feet.
The gadgets have rechargeable lithium-ion batteries that charge in two hours and last 50-70 hours per charge.
Both the collar and transmitter a low battery indicator and can be charged simultaneously using the added split-end charger.
The transmitter key feature can be customized.
Read Next – DOG CARE Dog Training Collar with Beep
Cons
Works excellent in wider areas than places of lots of obstructions and obstacles.
The charger links do not stay super secure while charging.
You will have to ensure you have the securely jacked in before leaving the collar and transmitter to charge.
Read Next – Sportdog FR 350 For Sale
SportDOG FieldTrainer SD-425 Training e-Collar - DryTek Waterproof Receiver - 7 Adjustable Levels of Correction. - 500 Yards Remote Trainer.
out of stock
as of May 15, 2022 5:13 pm
Bundle of 2 items - SportDog - SD-425 - SDR-AF Two Dog Field Trainer for Introductory and Advanced Training Dog Waterproof Shock Collar
out of stock
as of May 15, 2022 5:13 pm
SportDOG Brand YardTrainer Family Remote Trainers - Rechargeable, Waterproof Dog Training Collars with Static, Vibrate, and Tone, 100 Yard Range - YT-100
10 new from $135.99
1 used from $114.05
Free shipping
as of May 15, 2022 5:13 pm
SportDOG Brand SportHunter Family Remote Trainers - Including New X-Series - Waterproof, Rechargeable Dog Training Collars with Static, Vibrate, and Tone - Up to 1 Mile Range
15 new from $175.00
4 used from $154.00
Free shipping
as of May 15, 2022 5:13 pm
SportDOG Brand SportTrainer Remote Trainers - Bright, Easy to Read OLED Screen - Waterproof, Rechargeable Dog Training Collar with Tone, Vibration, and Static, 500 Yard Range - 2 Dog Expandable
8 new from $189.95
1 used from $163.66
Free shipping
as of May 15, 2022 5:13 pm
SportDOG Brand SportTrainer Remote Trainers - Bright, Easy to Read OLED Screen - Waterproof, Rechargeable Dog Training Collar with Tone, Vibration, and Static, 1/2 Mile Range - 3 Dog Expandable
5 new from $214.95
4 used from $169.80
Free shipping
as of May 15, 2022 5:13 pm
SportDOG Brand WetlandHunter 425/425X Add-A-Dog Collar - Additional, Replacement, or Extra Collar for Your Remote Trainer - Waterproof and Rechargeable with Tone, Vibration, and Static, Realtree Max-5
4 new from $129.95
Free shipping
as of May 15, 2022 5:13 pm
SportDOG Brand 425 Remote Trainers - 500 Yard Range E-Collar with Static, Vibrate and Tone - Waterproof, Rechargeable - Including New X-Series, Black (SD-425X)
22 new from $149.99
2 used from $142.49
Free shipping
as of May 15, 2022 5:13 pm
SportDOG Brand FieldTrainer 425X/SportHunter 825 Add-A-Dog Collar-Additional, Replacement or Extra Collar for Your Remote Trainer-Waterproof and Rechargeable with Tone, Vibration and Static
6 new from $109.95
1 used from $98.75
Free shipping
as of May 15, 2022 5:13 pm
SportDOG Brand FieldTrainer 425X Add-A-Dog Collar - Additional, Replacement, or Extra Collar for Your Remote Trainer - Waterproof and Rechargeable with Tone, Vibration, and Shock
3 new from $119.95
Free shipping
as of May 15, 2022 5:13 pm
SportDOG Brand Contain + Train Add-A-Dog Collar - Additional, Replacement, or Extra In-Ground Fence + Remote Training Collar - Waterproof and Rechargeable with Tone, Vibrate, and Static
10 new from $199.95
Free shipping
as of May 15, 2022 5:13 pm
SportDOG Brand UplandHunter Accessory Beeper - Audible up to 500 Yards - Waterproof Beeper with 9 Tones and 3 Run Modes - Remote Operated When Paired with Compatible SportDOG Brand Remote Trainer
4 new from $149.80
Free shipping
as of May 15, 2022 5:13 pm