Driving with your dog can be both enjoyable and nerve-wracking. On the one hand, you get to take your pup for a fun ride and enjoy their company.
On the other hand, it can be dangerous if your dog isn't properly secured in the car.
For many pet owners, the thought of their pup jumping around in the backseat is enough to make them anxious. But is strapping your pup into a seat belt harness the answer?
In this blog post, we will explore whether or not seat belt harnesses are safe for dogs and why they might be beneficial. Read on to learn more!
What are seat belt harnesses?
Most seat belt harnesses are nylon and have a plastic clip that attaches to your dog's collar. There is usually a loop on the other end of the seat belt that you insert into the seat belt receptacle of your car.
When fastened, the seat belt should be snug against your dog's chest and not too loose or tight. The best way to test if the fit is correct is to put your dog in the harness and have someone hold onto the leash while you drive a short distance.
If the harness is too loose, your dog can wiggle out of it; if it's too tight, it may choke.
How do seat belt harnesses work?
Most seat belt harnesses work by attaching the seat belt to a loop on the harness. The other end of the seat belt is then fed through a slot in the car seat's base and pulled tight. This effectively anchors the dog in place so it cannot move around too much and cause harm to itself or its human driver.
Some models of seat belt harnesses have a rope that attaches to the backseat headrest. This helps to keep dogs from being thrown forward in the event of an accident and can provide an extra measure of safety.
Are seat belt harnesses safe for dogs?
Dog seat belts and harnesses are designed to keep your furry friend safe while you're driving, but there are some things you should know before using one.
Seat belts and harnesses are not one size fits all – just like with people, dogs will need different sizes of harnesses to be comfortable and secure. Ensure to measure your dog before buying a seat belt or harness, and always follow the manufacturer's instructions for fitting the harness.
It's also essential to ensure that your seat belt or harness is appropriate for your dog's weight and activity level. A small dog who is content to sit in one spot during a car ride will need a different type of seat belt than a large, active dog who likes to move around.
Some seat belts come with ropes that attach to the car's existing seatbelt system, while others have their built-in restraint system. Either type can be safe and effective as long as it is used correctly.
If you're unsure which seat belt or harness type suits your dog, ask your veterinarian or a professional trainer for guidance.
How to use a seat belt harness safely with your dog
Seat belt harnesses are a popular way to keep dogs safe while driving, but it's essential to use them correctly to ensure your dog's safety.
Here are some tips for using a seat belt harness safely with your dog:
Make sure the harness is the right size for your dog. It should be snug but not too tight, allowing your dog to move around comfortably.
Attach the harness to the car's seat belt system according to the manufacturer's instructions.
Put your dog in the harness before getting in the car. Make sure they're seated upright and facing forward.
Never leave your dog unattended in a car, even if they're wearing a seat belt harness.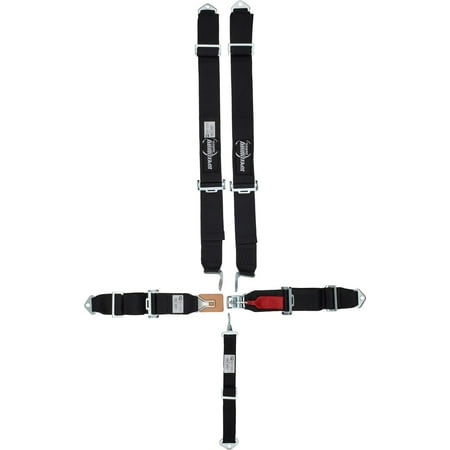 Red 5 Point 3" Individual Shoulder Harness, Racing Seat Belt
as of May 24, 2023 8:58 am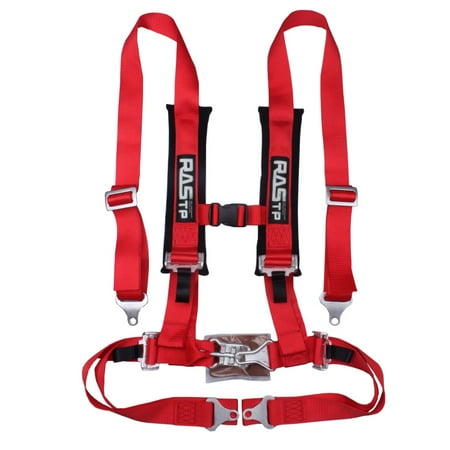 RASTP Red Universal 2" 4 Point Camlock Quick Release Seat Belt Harness Racing Car BAG036
as of May 24, 2023 8:58 am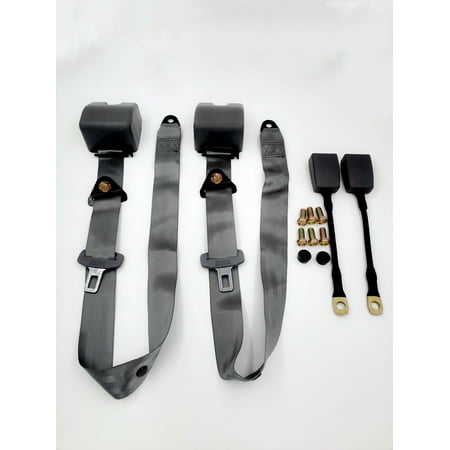 FEBONMLHK 2pack Retractable Adjustable 3 Point harness Safety Seat Belt for car truck
as of May 24, 2023 8:58 am
What is the safest way to travel with your dog?
There are several ways to travel safely with your dog, but using a seat belt harness is the best. These devices keep your dog secure in its seat and prevent them from being able to jump out of the car or wander around the cabin.
There are a few things to remember when using a seat belt harness for your dog. First, make sure that the harness fits properly. It should be snug but not too tight, allowing your dog to move freely. Second, always use the harness in conjunction with a seat belt. This will ensure that your dog stays in their seat and doesn't go flying if you brake suddenly.
Finally, never leave your dog alone in the car. They could get injured or escape unattended, even with a seat belt harness. If you must leave the car, take your dog with you or have someone stay with them.
Is a dog allowed in the front seat of a car?
The answer to this question depends on the state or country you drive in. In the United States, no federal law prohibits dogs from riding in the front seat of a car.
However, some states have laws that require dogs to be restrained while in a vehicle. For example, driving with a dog on your lap is illegal in California.
In addition to state laws, it is also essential to consider your dog's size and weight when deciding whether to allow them in the front seat.
If your dog is small enough to sit on your lap without obstructing your view of the road, it is probably safe for them to ride in the front seat. However, if your dog is large or heavy, it is best to keep them in the back seat where it will be less likely to interfere with your driving.
Ultimately, the decision of whether or not to allow your dog in the front seat while you are driving is up to you. If you feel comfortable doing so, then there is no reason why you shouldn't let your furry friend enjoy the ride!
Is a harness or collar better for a dog seat belt?
Assuming you are asking which is better for restraining a dog in a vehicle:
A collar is not going to provide as much safety as a harness. A collar could come off if your dog got jostled around or tried to pull out of it. A harness will fit snugly around their body, and some have clips that attach to the seat belt, so even if your pup tries to wiggle out of it, they won't be able to.
The best option is to get a car safety harness that has been crash-tested. These have been designed with dogs in mind and will provide the best protection for your furry friend in case of an accident.
Where is the safest place for a dog to ride in a car?
The safest place for a dog to ride in a car is in the back seat, away from the airbags. Put them in a crate or use a dog seat belt to secure them if possible. Never let your dog ride in the front seat with you, as the airbag could seriously injure or kill them.
What is the best way to transport a dog in a car?
You can transport your dog in a car in a few different ways, but the best way is definitely by using a seat belt harness.
There are many different types of harnesses on the market, but the most important thing to look for is one that has been crashing tested.
A seat belt harness will keep your dog secure in their seat, and it will not be able to jump around or interfere with your driving.
This is the safest option for both you and your dog, and it will also help prevent any accidents.
Conclusion
To sum up, a seat belt harness is essential for any dog owner who wants to keep their pup safe while driving. The key is to choose one that fits comfortably and securely and ensure that you use it correctly when driving with your pet.
Seat belt harnesses are designed to protect your furry friend from collisions and being thrown around within the vehicle during sudden stops or turns.
With the proper precautions in place, you can drive safely with peace of mind knowing that your beloved pup will stay safe in case of an accident.
Aces Racing 4 Point Harness with 2 Inch Padding (Ez Buckle Technology) (Black (Pair))
2 new from $109.99
5 used from $108.89
Free shipping
as of May 28, 2023 9:52 pm
PRP Harnesses 2" 4 Point 2 Pack (Black)
11 new from $197.98
Free shipping
as of May 28, 2023 9:52 pm
4 Point Harness (Pair) for sxs utv With Seat Belt Bypass (Blue, 4 Point)
2 new from $119.99
Free shipping
as of May 28, 2023 9:52 pm
5 Point Harness with 3″ Belts Black By PRP SB5.3
15 new from $133.00
Free shipping
as of May 28, 2023 9:52 pm
VavoPaw Dog Vehicle Safety Vest Harness, Adjustable Soft Padded Mesh Car Seat Belt Leash Harness with Travel Strap and Carabiner for Most Cars, Size Large, Black
3 new from $22.99
1 used from $21.98
Free shipping
as of May 28, 2023 9:52 pm
RaceQuip 711001 Racing Harness SFI 16.1 Certified Black
9 new from $104.95

as of May 28, 2023 9:52 pm
Aces Racing 5 Point Harness With 2 Inch Padding (Black)
2 new from $64.99
Free shipping
as of May 28, 2023 9:52 pm